LATEST NEWS
We are pleased to announce the following dates are now confirmed for both the Dambuster and Vitruvian events in 2020.
Event Calendar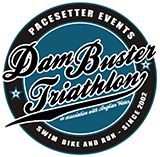 DAMBUSTER TRIATHLON
Saturday 20th June 2020
1.5km Swim – 42km Bike – 10km Run
Triathlon England National Championships

VITRUVIAN TRIATHLON
Saturday 12th September 2020
1.9km Swim – 85km Bike – 21km Run
If you register for our newsletter (we only send one per month and never pass details on to other parties so don't worry you won't be bombarded) you will be advised when entries open.
If you have already raced one of our events in the last three years you will be on our mailing list unless you de-registered from it.
If you register on twitter/facebook you will be advised of the date when entries open ahead of the crowd as it were.
You can register for any of our media links from our home page at www.PaceSetterEvents.com.
Thanks for the support and we look forward to seeing you at the races in 2020.
Congratulations! That's it – hundreds once again rose to the challenge of the Vitruvian in 2019, the 17th edition of this leading event in the UK calendar held at Rutland Water.
We hope you enjoyed the fantastic beach start, the swim into the iconic rising sun, managed to maintain a good core temperature on the bike in the deceptively cool conditions on the first lap and then warming up during the double lap run.
It's nearly time – are you race ready? Final Race Information and Startlist for the Vitruvian are now available for download.
The office for the event is closed in preparation for the course build up but if you do have emergency queries please feel free to email us. However, given that we will be on course for much of the week we cannot guarantee to be able to reply but we will do our best. If we are unable to get back to you any queries can be taken up at registration.
Please make sure you download the FINAL RACE INFO.
See you at the race!


NEXT EVENT

THE VITRUVIAN
EVENT FULL: It's almost time for the multi award winning Vitruvian triathlon 2012, watch our Tweets for cancellation places becoming available... →
NEWSLETTER: Sign Up