The Vitruvian
Date:
Venue:
Max entries:
Distance:
Entry Fee:
08 September 2012
Rutland Water, Leicestershire
1000 - SOLD OUT
1900m swim - 85k bike - 21k run
Individual £115 / non-BTF £120
3 Athlete Relay Team (BTF) £145
MISSED OUT ON THE AWARD WINNING VITRUVIAN FOR 2012?
You're in luck! We have 20 charity places available. Click here for more information about the child we are raising money for, but don't delay, as with The Vitruvian... the places will fill fast!
If you haven't heard of the Vitruvian - where have you been?!
Established in 2003, the Vitruvian started from humble beginnings and less than 250 starters in its first year. Since then the Vitruvian has grown into one of the most respected and iconic races on the UK calendar.
Voted the UK's event of the year in 2007, 2008 and 2009 by the 220 Triathlon magazine awards the Vitruvian now sees 1000 competitors race annually and is significantly oversubscribed year on year so you need to get in early if you want a slot.
"...you need to be quick off the mark
just to get a place at the start line..."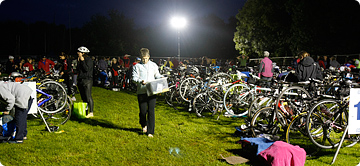 As all the places are sure to be taken quickly you need to be quick off the mark just to get a place at the start line, but you also need to have endurance to make sure you get to the finish line.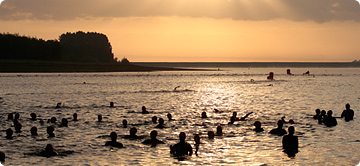 With a two lap 1900m swim in front of highly enthusiastic crowds the race starts as it means to go on and the double lap bike course covering 85km in total is not for the fain hearted. With the 21km run to finish it off the Vitruvian is a true test of endurance.
"...a full on tough quad crunching,
lung buster of a race..."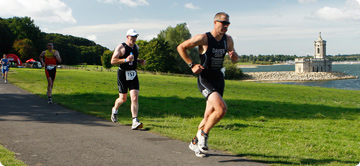 With similar distance races often referred to as half Ironman or middle distance it can be misleading to equate the Vitruvian to other events. There is nothing half or middling about the Vitruvian. This is a full on triathlon and only if you finish it you can call yourself a Vitruvian.
NEXT EVENT

THE VITRUVIAN
EVENT FULL: It's almost time for the multi award winning Vitruvian triathlon 2012, watch our Tweets for cancellation places becoming available... →